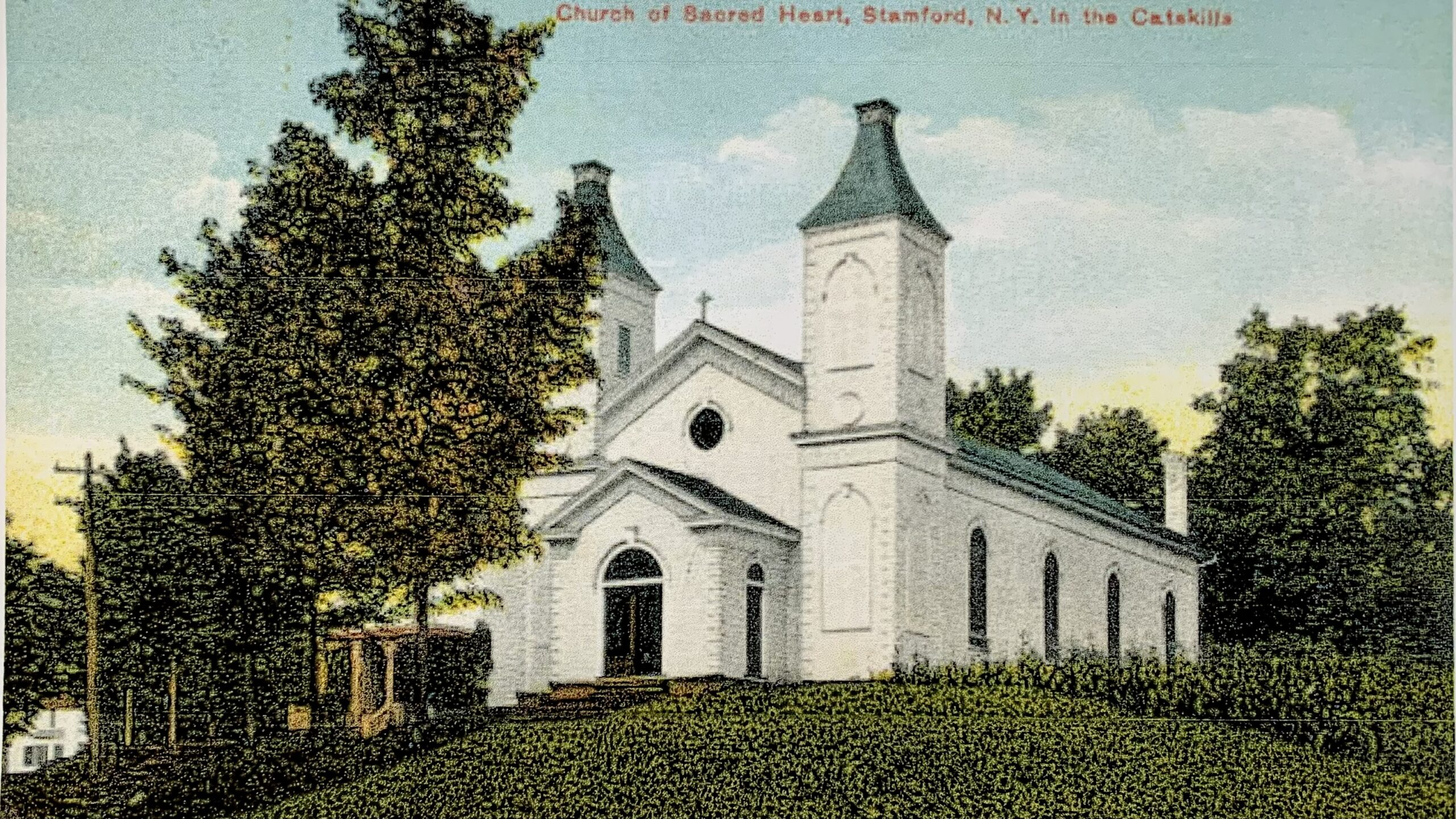 The Orginial Sacred Heart Church Flourished for 95 Years
Compiled by Linda Palm, 2016
In the late 1860's, Catholic families began coming to the Stamford area in northern Delaware County, New York. Some came because of the arrival of the railroad and others because of the advent of the summer boarding business in the region. The need for a Catholic Church soon became apparent, and in 1869 the site for a church was purchased by Rev. Thomas Riley from Cobleskill.
The church was built in 1870 in the southwest section of the village known as "Brooklyn" at the time, under the direction of Rt. Rev. J.J. Conroy, Bishop of Albany. Ground was broken in May and the church was dedicated on October 25 by Bishop Conroy, who was assisted by Rev. T.W. Riley.
Since 1966
A severe windstorm in February of 1965 damaged the failing church structure and the building was declared unsafe because of cracked timbers in the ceiling.
Plans for a new church were formulated. Construction began in April 1966. While it was located on the same site as the old structure, the new Sacred Heart Church was built facing the west.
Sacred Heart Church
27 Harper Street
Stamford, NY 12455
St. Philip Neri Church
60676 NY-30
Grand Gorge, NY 12474
Sacred Heart Church, Stamford
Saturdays—4:30pm Vigil Mass
Fridays—12:00pm Mass
Reconciliation/Confession—Saturdays 3:30-4:15pm
St. Philip Neri, Grand Gorge
Sundays—8:00am Mass
Reconciliation/Confession—Sundays 7:30-8:00am
Sacred Heart Rectory/Parish Office
27 Harper Street
Stamford, NY 12167
Office Hours: Tuesday - Friday, 9:00AM - 3:00PM. Closed Monday.
Phone: (607) 652-7170
sheartchurch@stny.rr.com